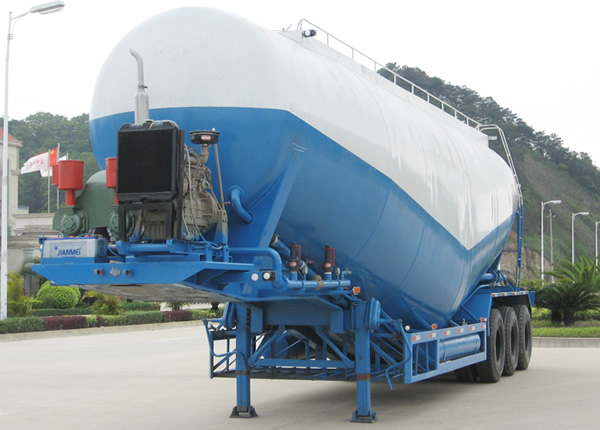 China supplier of cement trailers, cement bulk tank trailers. We offer bulk cement tank trailers for sale to carry Powder particles which can be discharged by pneumatic air pressure.
Custom made design is available.
What is cement trailer
Cement tank trailer is a type of trailer equipped with a bulk tanker to storage cement powder and other dry powder materials like fly ash, lime powder, mineral powder particles smaller than 0.1mm in diameter.
The trailer's operation is convenient, one operator can finish the whole operation process.
Differences between cement trailer and cement truck
Cement truck is a tractor connected with a cement trailer, normally we can not disconnect them.
In other words, the cement trailer can increase the using efficiency of prime mover.
Drop and pull transport
Main structure
The cement tank trailer adopts a strong steel structure. The main constituent parts are tank, pipeline, chassis frame, support device, mechanical suspension system and other related accessories.
Cement tank
The tank's main components are vessel, inlet, outlet pipe, cleaning port, air intake pipe and other accessories.
The tank body is a double-cone tilting structure, which lowers the center of gravity of the tank and improves the structural stability of the tank trailer
Tank body
Normally the tank body is rolled from 5mm thickness high-quality steel plates, and both ends are welded with 6mm thick standard oval heads.
Tank body
Inlet port
Fluidized bed
Outlet pipeline
Port for removing residue
Air inlet
Special design
This type of tank design has high strength, good rigidity, pressure bearing and performance ability. The tank body is two chambers in one vessel structure.
Tank layout
The special layout is reasonable, can effectively shorten the loading and unloading time, and improve the volume utilization rate of the tank body. It can also reduce the residue rate.
Top of the tank
There are two inlet-ports at the top of the tank body. On the one hand, we can open the manhole cover to speed up the loading of material into the tank. On the other hand, it is convenient for operator to enter and exit when the tank needs an overhaul.
Bottom of the tank
Under the tank, there is an outlet that enable the operator to remove the residual cement in the tank easily.
Features of China cement trailer
Cement tanker has higher efficiency in transport than bagged cement
Save bag material
Loss of cement is lower than 0.5%
Keep high quality of cement powder in long period
Carbon dioxide shielded welding for tank
Fluidized bed designed in two or three storage rooms
Shot blasting for tank and parts
Fast uploading for cement and powder particles
Y shape fluidized bed increase volume and lower COG(center of gravity)
Mechanical suspension with leaf springs
WABCO emergency brake system
Specifications
| Item | spec |
| --- | --- |
| Capacity | up to 66 tons |
| Working pressure | 0.2MPa |
| Tank volume | 10m³ – 55m³ |
| Engine | Dongfeng/Dongfeng Cummins/FAW/Foton/Sinotruk |
| Axle | BPW/Fuwa/L1 |
| Suspension | Mechanical 8 pcs leaf spring |
| Braking system | Wabco emergency relay valve, T30/30+T30 air chamber |
| Rim and tire | 10.00R20, 11.00R20, 11R22/5, 12R22.5 |
| Air compressor | 37kw, 0.2Mpa, 1000r/Min |
| Air discharging system | 2″ main hole, 2″ check valve, 1.5″ safe valve, 0.4 MPa gauge |
| Engine | Diesel engine/Electrical motor |
| Tanker body | Q235A/6mm steel |
SinoTrailers – China Cement Trailers Manufacturer