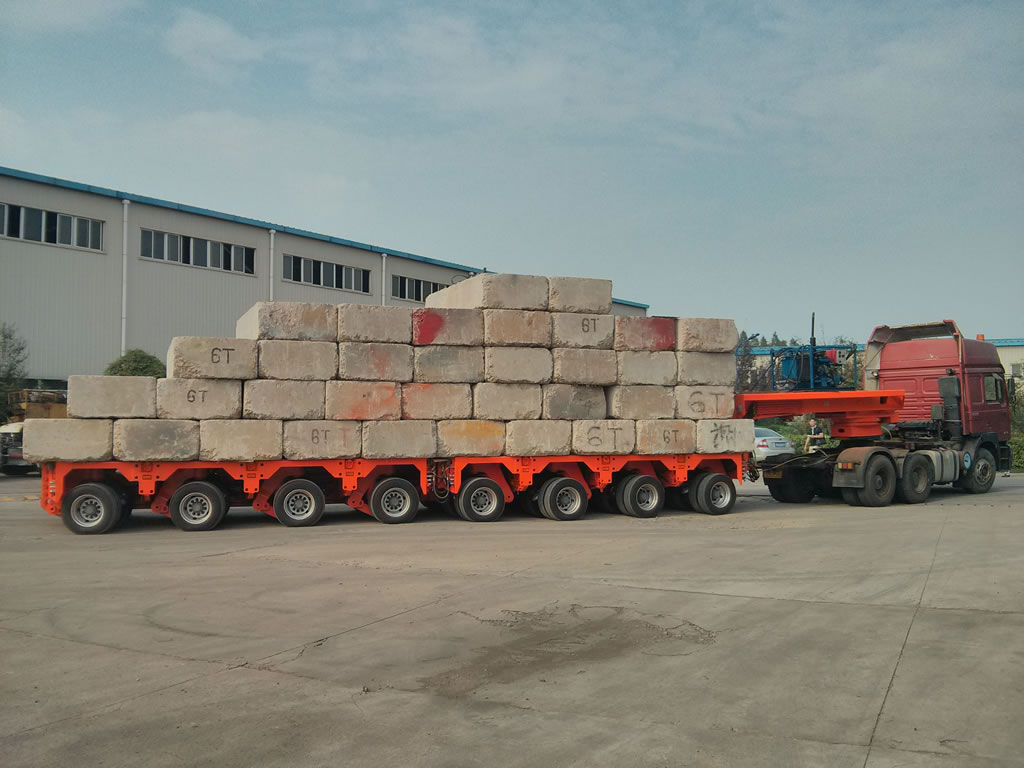 Modular trailer is a kind of hydraulic multi axle trailer, also called hydraulic platform trailers in North America.
The hydraulic trailer consists of
High tensile steel chassis frame, durable with high safty factor.
Hydraulic cylinder suspension.
Power pack(diesel engine), supply hydraulic pressure for steering and lifting. Air compressor is an option if your prime mover has no air brake.
Hydraulic/mechanical steering system. Hydraulic pressure came from power pack to steering and lifting jack, drive steering tie rods which tied up with suspension, then realize steering of whole trailer. When hydraulic pressure functioned in lifting cylinder, hydraulic platform trailer can go up and down.
Main Application of Multi-Axle Trailers
For long distance road transport of oversized and abnormal load cargos, such as steel structure, power generator, transformer, gas turbine, steam turbines, windmill parts(wind blade, wind tower and wind nacelle), petroleum vessels. Widely used in construction, engineering, oil refinery and other related industries. Each hydraulic modular trailer module could be connected end by end(longitudinal combination) and side by side(latitudinal combination), to finish various tough and enormous transport job that mechanical suspension trailer(conventional) can not make it.
Hydraulic platform trailer is getting popular worldwide due to it can spread concentrated weight to each wheels via hydraulic system, it can maintain level of trailer and cargo when running on uneven road, also, it can protect road from damage caused by overload trailer.
The hydraulic trailer also can be connected with tow bar as full trailer and hydraulic gooseneck as semi trailer to adapt different uses.
SinoTrailers supplies different types of China modular trailers: G3.0 is compatible with the Goldhofer trailer, S3.0 is compatible with the Scheuerle InterCombi modular trailer, N3.0-2 is compatible with Nicolas MDED/MDE, C3.0 is compatible with Cometto module 51M.
SinoTrailers has sold such hydraulic pendulum axle(suspension) trailers to the US, Brazil, Chile, Poland, New Zealand, Malaysia, Indonesia, Kenya and other up to 40 countries all over the world.
Features of SinoTrailers modular trailer
Adopt world-class parts like Kohler diesel, Bondiolo & Pavesi valve.
High tensile steel mainframe.
All wheels are steerable automatically or manually.
Hydraulic axle(suspension) adapt uneven road condition.
Platform height is adjustable.
Lifting cylinder makes the trailer automatically responds to tough road conditions.
Safety valve in the hydraulic circuit.
Brake air tank ensures immediate brake.
Pendular axle and suspension easy for maintenance.
Pneumatic and hydraulic quick coupling.
Modules connecting pin adopts hydraulic cylinder makes longitudinal coupling fast.
The dual-circuit hydraulic system guarantees a safe work condition.
End by end combination and side by side combination of each module are available.
Small turning radius, 55° steering angle with hydraulic gooseneck.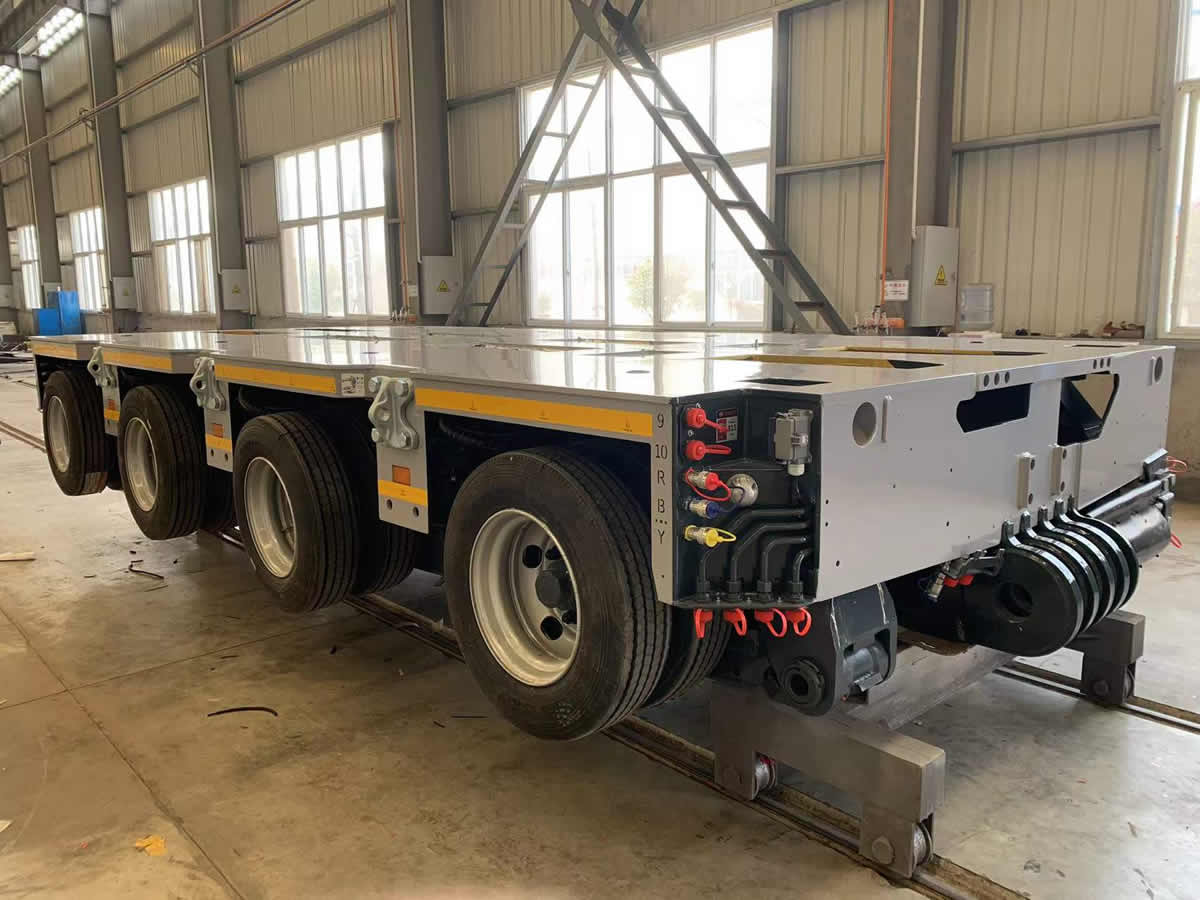 Specifications of Hydraulic Platform Trailers
| Type | N3.0-1 | N3.4 | N3.0-2 | G3.0 | N3.0-3 |
| --- | --- | --- | --- | --- | --- |
| Platform Width (mm) | 2,990 | 3,400 | 2,990 | 3,000 | 2,990 |
| Wheelbase (mm) | 1,550 | 1,600 | 1,550 | 1,500 | 1,550 |
| Platform Height (mm) | 1,070±300 | 1,070±210 | 1,080±325 | 1,175±300 | 1,070±300 |
| Min. Height (mm) | 770 | 860 | 755 | 875 | 770 |
What We Offer
Supplying trailer parts for the replacement of original multi-axle trailers.
Service of reconditioning of old modular trailers.
Want to load out/in huge stuff over 1,000 tons, you probably need the self-propelled trailer.