China SinoTrailers has over 10 years' experience in designing and manufacturing SPMT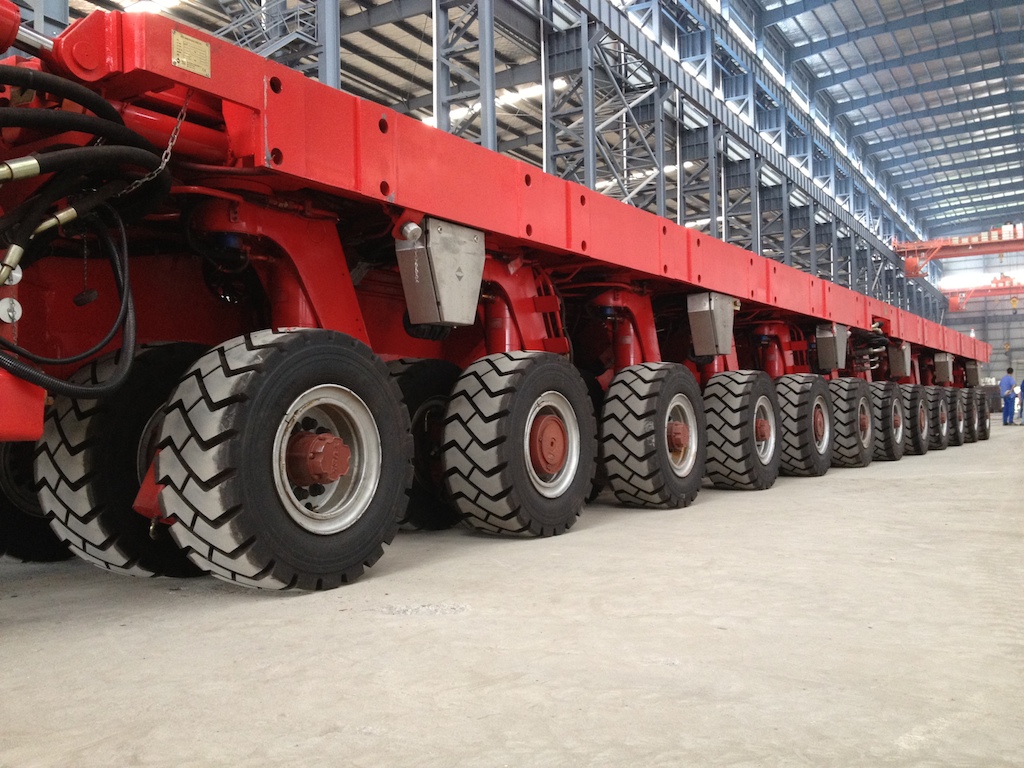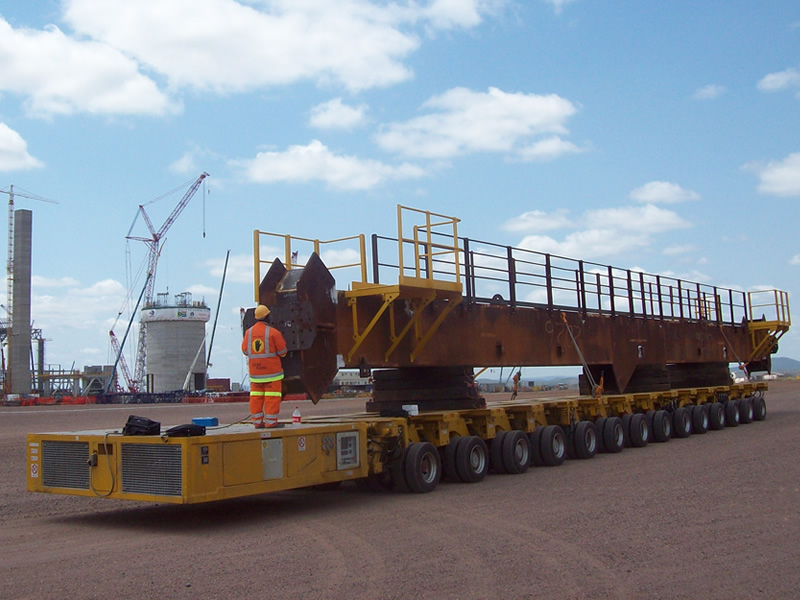 What is SPMT
SPMT is known as self-propelled modular transporter. It is a kind of hydraulic platform trailer equipped with a powered diesel engine or an electric motor to drive itself to move, lift and steer, no need the help of tractor or prime mover.
Electrical engine with lithium battery adopted in our newest generation of SPMT which is a green power vehicle and easy to transform to AGV(automatic guided vehicle).
Specifications of Self-Propelled Modular Transporter
Custom design is available, please feel free to contact us
| Type | G3.0 | G3.0E | N3.0-1 | N3.4 |
| --- | --- | --- | --- | --- |
| Platform Width (mm) | 3,000 | 3,000 | 2,990 | 3,400 |
| Wheelbase (mm) | 1,500 | 1,500 | 1,550 | 1,600 |
| Platform Height (mm) | 1,175±300 | 1,220±300 | 1,070±300 | 1,070±210 |
| Min. Height (mm) | 875 | 920 | 770 | 860 |
| Max. Steering Angle | 55° | 100° | 50° | 45° |
| Steering Way | Mechanical | Electronic | Mechanical | Mechanical |
| Type | L2.0 | L2.29 | L2.4 | S2.43 |
| --- | --- | --- | --- | --- |
| Platform Width (mm) | 2,000 | 2,290 | 2,400 | 2,430 |
| Wheelbase (mm) | 1,000 | 1,150 | 1,150 | 1,400 |
| Platform Height (mm) | 530+200 | 630+410 | 630+410 | 1,500±300 |
| Min. Height (mm) | 530 | 630 | 630 | 1,200 |
| Max. Steering Angle | 90° | 90° | 90° | 90° |
| Steering Way | Electronic | Electronic | Electronic | Electronic |
Configuration of SPMT
Chassis frame, adopts Q690 high tensile steel, high safety factor.
Hydraulic pendulum suspension set, consists of pendulum arm, lifting cylinder, axle (normal axle, drive axle and brake axle) and tire (solid or pneumatic industrial tyre).
Hydraulic lifting system, 3 or 4 points supporting system, equipped with backup safety hydraulic line, make sure cargo and SPMT stable if any leakage happened. The hydraulic oil cylinder in the pendulum axle is able to compensate uneven road surface to make sure the cargo platform remain in horizontal position and average payload distribution on each axle.
Power system (Power Pack Unit), supply power for lifting, moving, steering, braking and illumination.
Driving system. Hydrostatic pressure came from PPU to hydraulic motor and cylinder to power the SPMT. Drive axle mounted with Rexroth reducer.
Steering system. Mainly has two steering ways, one is mechanical steering, using tie rod for steering, max. steering reaches up to 50 degrees. Another is hydraulic and electronic steering, adopting rack and pinion on each suspension, the steering angle is over 130 degrees, could make the SPMT move to any direction you need, even to move laterally like a crab. The system embedded with angle sensors to monitor its running, and guarantee precise steering.
ASR system. The embedded electronic control system makes sure each wheel spin at the same speed and no-slip and skid when the SPMT accelerates.
Braking system. Different from modular trailers using air pressure as a power to brake, China SPMT adopting hydraulic pressure and cylinder to realize accurate braking.
Circuit system. Power whole SPMT's lighting system could be LED illumination to maintain long working hours.
Control system, with wire control panel and wireless control panel.
Self-propelled modular transporter is widely used as a perfect solution to transport modules such as, oil platform rigs, factory modules, chemistry vessels, nuclear reaction tower, harbor crane in shipbuilding, high speed railway bridge construction, windmill construction, offshore modules (load-in/out), harbor logistics, and other engineering logistic projects. Industries like construction, chemical engineering, refinery, metallurgy, ocean engineering, conventional energy (oil and gas) and eco-energy all have an increasing demand for SPMT.
Considering of steering modes, SPMTs can be divided into two types:
1. Tie rod steering type (hydraulic and mechanical steering). Non-driving axles module is a type of hydraulic modular trailer, the max steering angle is around 50°.
2. Independent suspension type (electronically and hydraulic steering). Max steering angle is up to 130°, this type of SPMT can move sideways like a crab.
Features of China SPMT
The steering monitoring system ensures the safety of the steering process.
The height and angle of PPU are adjustable, to adapt different working conditions. Even to disassemble PPU and put it on top of China SPMT to reduce the total length, then get high trafficability, enable its efficient move in hairpin turns or narrow spaces.
The self-adapting hydraulic system guarantees cargo platform level when SPMT running on uneven roads.
Accurate movement and steering make sure it has high performance in modules connection and assembly.
The combination system enables modules could be connected laterally and longitudinally to adapt different cargo sizes and weights. Also, modules can be coupled with hydraulic hose and electrical cable to transport oversize cargo with relatively lightweight, just need less quantity of SPMTs to work in "soft-connection" mode.
When preset a working program (moving and steering mode), China SPMT can work automatically.
The new generation of electric SPMT
Development of self-propelled modular transporter benefited from the innovation of lithium battery, is apt to electric SPMT compare to the conventional diesel engine SPMT.
Most developed and developing countries have high requirements for emission standards and noise control regulations, which will increase the cost to make qualified PPU with diesel engines. Electric SPMT has no emission and pretty low noise, it is more friendly to use in the plant, even the dust-free workshop.
What SinoTrailers Offers:
SPMT parts, able to replace parts of original SPMT made in Europe.
Upgrade hydraulic trailers to SPMT.
Service of door-to-door refurbish of SPMT.
Door-to-door service of replacing malfunctioned parts.
Trouble-shooting service.
SPMT operator training and out-sourcing service.
Want to move hundreds of tons' cargo for long-distance road transport? You probably need a modular hydraulic axle trailer.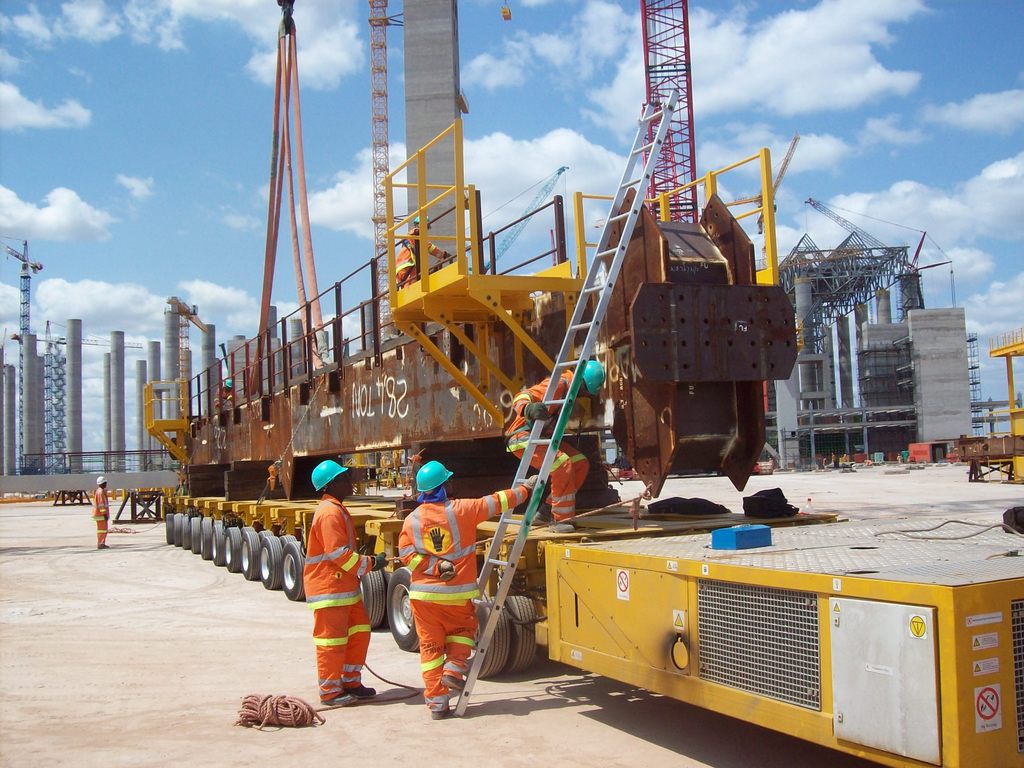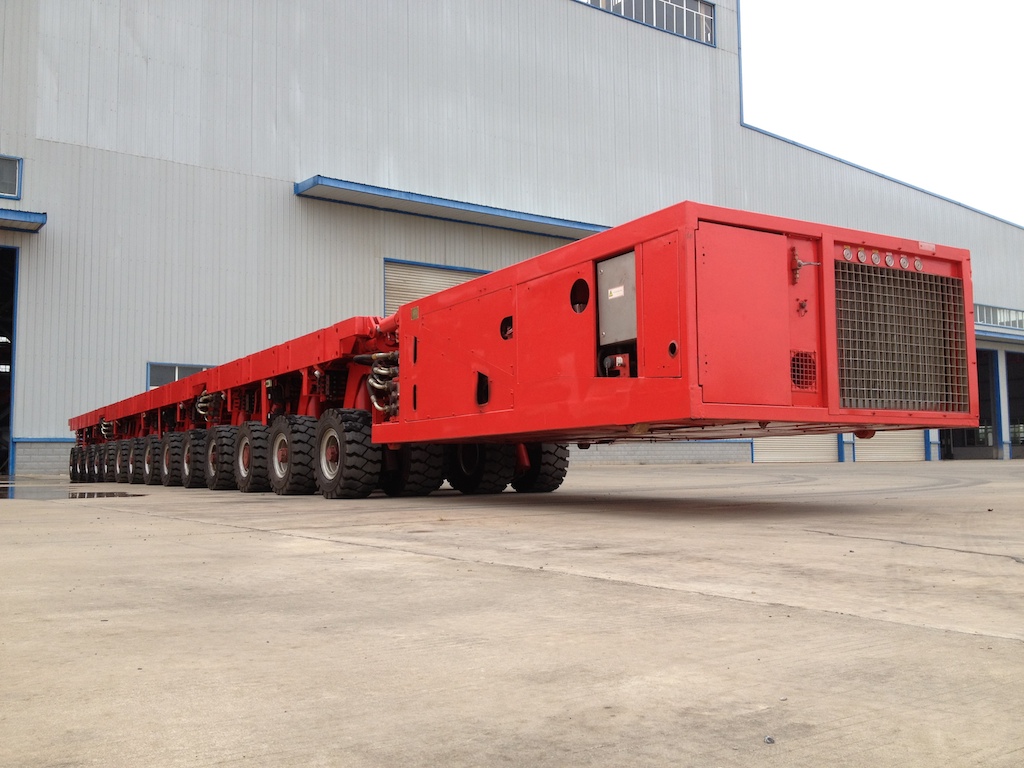 SinoTrailers – A Factory of China SPMT, self-propelled modular transporter