China SinoTrailers has over twelve years' experience in designing and manufacturing SPMT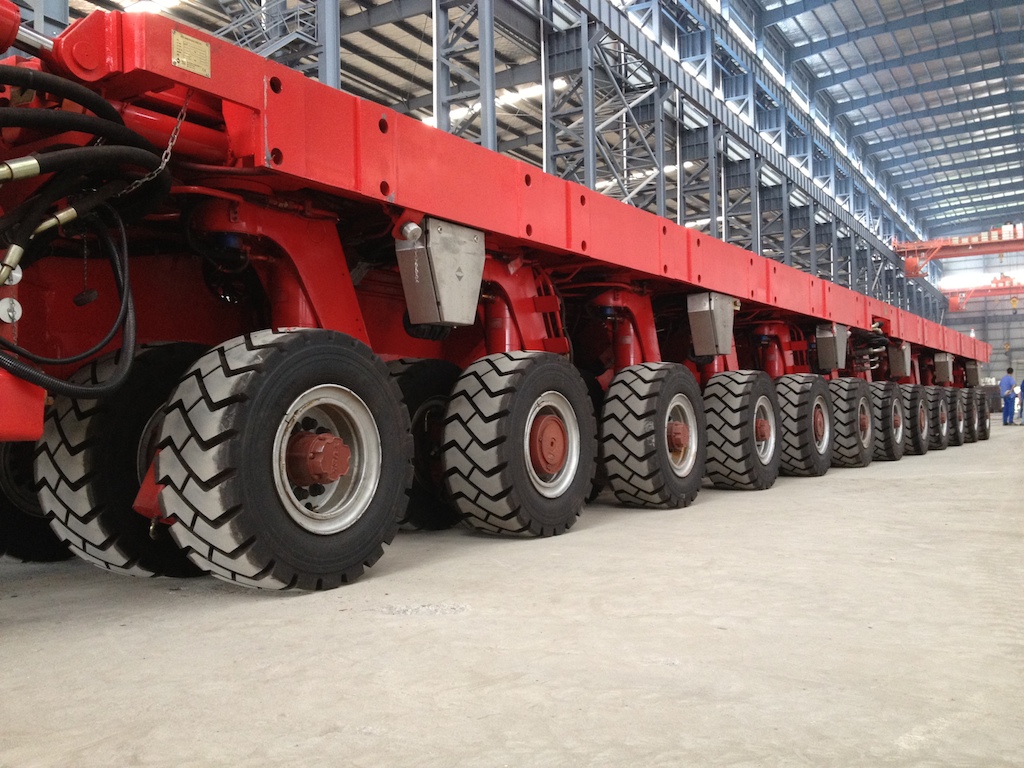 What is the SPMT
SPMT is known as self-propelled modular transporter. It is a kind of hydraulic platform trailer equipped with a powered diesel engine or an electric motor to drive itself to move, lift and steer, no need for involvement of tractor or prime mover.
Electric SPMT with lithium battery is our newest generation of SPMT, which is a green power vehicle and easy to transform to AGV(Automatic Guided Vehicle).
Self-propelled modular transporter is widely used as a perfect solution to transport modules such as oil platform rigs, factory modules, chemistry vessels, nuclear reaction tower, harbor crane in shipbuilding, high-speed railway bridge construction, windmill construction, offshore modules (load-in/out), harbor logistics, and other engineering logistic projects. Industries like construction, chemical engineering, refinery, metallurgy, ocean engineering, conventional energy (oil and gas), and eco-energy all have an increasing demand for SPMT.
What is the SPT and differences between SPT vs. SPMT
The full name of SPT is self-propelled transporter, without the word modular compare the SPMT.
SPT belongs to SPMT. It is an easy version of SPMT. In general, we also call SPT SPMT.
SPT is evolved from hydraulic modular trailers. It mainly consists of three parts: ordinary hydraulic multi-axle trailer, powerhead PPU, and the drive axle module.
The appearance of SPT and SPMT is the same. Both consist of PPU and trailer module. From the appearance, it's hard to tell whether they are SPT or SPMT.
Different steering modes
SPT is controlled by the linkage rods. It is a kind of overall steering mode. The SPMT is controlled by a worm and gear or a rack and pinion, with each suspension steering independently.
The steering angle is different
The steering angle of SPT is usually between 45 degrees and 55 degrees, and the steering mode is only one.
The steering angle of SPMT can reach more than 90 degrees and realize a variety of steering modes, such as crosswalks, which can make the vehicle movement more efficiently in a smaller range.
Below types of G3.0, N3.0-1, and N3.4 are SPT actually.
What types of SPMT we can produce
G3.0
Platform width 3,000mm, wheelbase 1,500mm, platform height 1,175±300mm, the minimum size can lower to 875mm.
Steering way is linkage rods mechanical steering, steering angle 55°.
Please note that G3.0 SPMT can connect our G3.0 conventional trailer or original Goldhofer THP/SL trailer.
G3.0E
Platform width 3,000mm, wheelbase 1,500mm, platform height 1,220±300mm, minimum height can lower to 920mm.
Steering way is worm and gear, steering angle 100°.
Difference between G3.0 and G3.0E
Hight: G3.0E is 45mm higher due to steering upgraded from mechanical tie rods to worm and gear. The worm and gear need more space for assembly.
Steering mechanism: G3.0 is using linkage rods, all suspensions steering together. G3.0E is adopting worm and gear. All suspensions are independent pendulum.
Steering angle: G3.0 is 55°. G3.0E is 100°, enable SPMT to move sideways or diagonal move to any directions you want.
N3.0-1
Platform width 2,990mm, wheelbase 1,550mm, platform height 1,070±300mm, minimum height can lower to 770mm.
Steering way is linkage rods mechanical steering, steering angle 50°.
N3.0-1 SPMT can connect with N3.0-1 modular trailer or original Nicolas MDED trailer.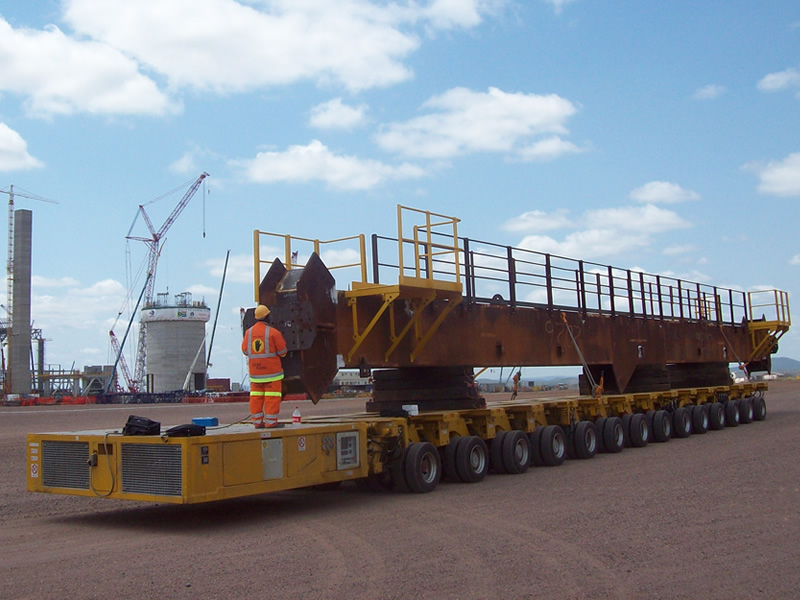 N3.4
Platform width 3,400mm, wheelbase 1,600mm, platform height 1,070±210mm, minimum height can lower to 860mm.
Steering way is linkage rods mechanical steering, steering angle 45°.
The wide of the SPMT is 3.4 meters, which is wider than other SPMT. We can make customized width of SPMT according to different working conditions.
S2.43
Platform width 2,430mm, wheelbase 1,600mm, platform height 1,500±300mm, adopts an electronic steering system, so each pendulum suspension is independent for steering. This type of SPMT is similar to Scheuerle 2.43m width SPMT.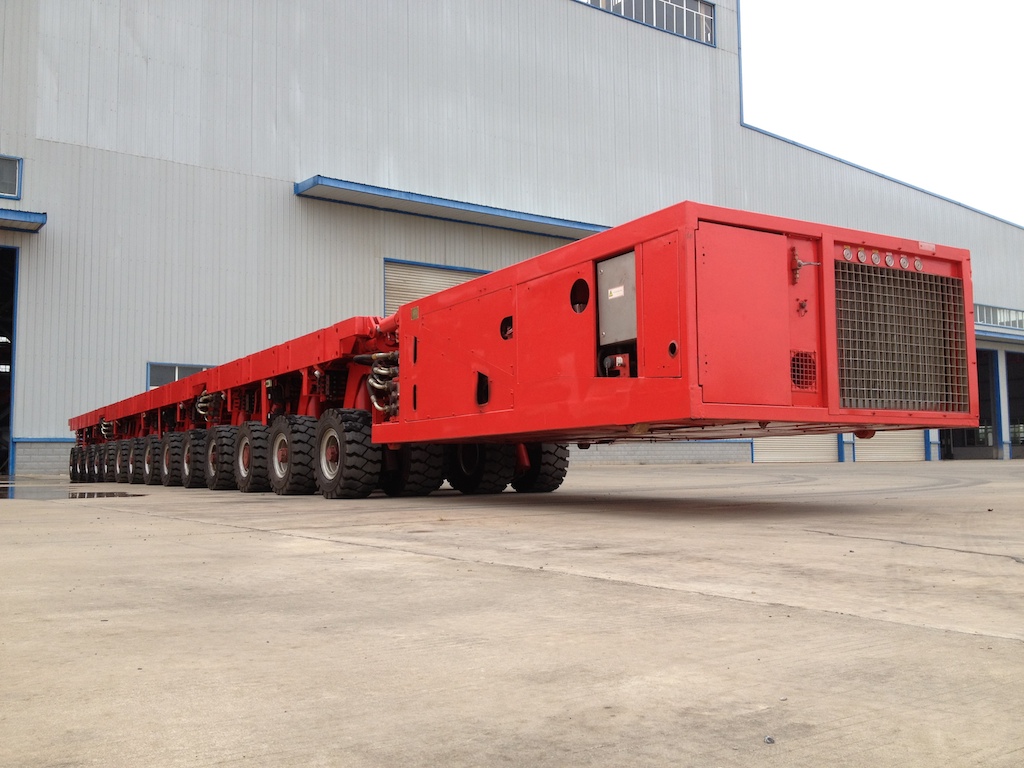 Why is the width 2.43 meters?
2.43 meters width SPMT is the same as the outer width of the Flat Rack container, which can minimize sea freight if you want to ship them by FR containers.
2.43m width SPMT is the most popular type on the earth. It is stable and nimble. But if you want even narrower SPMT, WE CAN DO IT!
Below you can see a comparison sheet of other SPMTs that are narrower than that of S2.43 SPMT.
L2.0, L2.29, L2.4
| Type | L2.0 | L2.29 | L2.4 | S2.43 |
| --- | --- | --- | --- | --- |
| Platform Width (mm) | 2,000 | 2,290 | 2,400 | 2,430 |
| Wheelbase (mm) | 1,000 | 1,150 | 1,150 | 1,400 |
| Platform Height (mm) | 530+200 | 630+410 | 630+410 | 1,500±300 |
| Min. Height (mm) | 530 | 630 | 630 | 1,200 |
| Max. Steering Angle | 90° | 90° | 90° | 90° |
| Steering Way | Electronic | Electronic | Electronic | Electronic |
All dimensions of the SPMT can be customized, if you need custom design, please feel free to contact us.
SPMT transport vs. traditional rail transport
SPMT is more versatile
SPMT transport has a wider universality, due the SPMT has tires (rubber tires, PU tires or polyfill tires), can move on various roads, even sand gravel road, side road, and inclined road. The working site no need paved with rails or slide rails and other facilities.
Traditional rail transport needs a concrete road mounted with rail. Investment on the paved road and rail is high. The advantage of rail transport way is: cost to use is lower than the SPMT transport method.
With the help of SPMT, the manufacturing plants of big projects and storage yards are not limited to specified places. More application cases are using SPMT instead of rail transport in petroleum, electric power, metallurgy, chemical industry, construction, high-speed railway construction, shipbuilding, new energy (wind and solar power), nuclear power and other industries.
Under normal conditions, traditional rail transport can not run on the ground with a big slope, which means you have to make up the slope gradient before using the traditional rail transport method.
Lifting function
If we put the cargo on a bolster holder, the SPMT is able to enter into the holder directly, then start moving after raised to lift the holder from the ground. After arriving at the destination, the SPMT platform is lowered, and the holder with the cargo is placed in the yard or the assembly site. With the help of the bolster holder and lifting function, the self-propelled modular transporter can realize self-loading and unload automatically.
Most rail cars have no lifting functions.
Combination function
The rail equipment can only transport the cargo within a single vehicle and cannot be combined to transport oversized one. During the transportation of oversize cargo, we can combine several modules of SPMT and connect the hydraulic pipeline and circuit to realize the synchronous operation of multiple SPMTs, so as to meet the requirements and ensure safety.
Configuration of SPMT
Chassis frame
The chassis of the SPMT adopts Q690 high tensile steel, which has high safety factor.
Power system (Power Pack Unit)
The PPU supplies power for lifting, moving, steering, braking, and illumination.
The ppu is a diesel engine equipped with pumps, motors, hoses, and cables for coupling with self-propelled modules.
Dimension of PPU
The size of the PPU is generally consistent with the size of the SPMT body, the width is usually 3 meters or 2.43 meters. In order to ensure its trafficability, the size of SPMT normally does not exceed the size SPMT chassis.
Some diesel engines have a bigger dimension with lower purchasing cost, to reduce the cost we can comprise to enlarge the dimension of the PPU. In this way, we will increase the height or length of the PPU, then the height of the PPU is slightly higher than the surface of the SPMT cargo platform. As the SPMT can lift and lower itself, the moderate increased height and length will not affect the passing performance. If the width of the power unit increases, its trafficability will be weakened.
The height and angle of PPU are adjustable, to adapt to different working conditions. Even to disassemble PPU and put it on top of China SPMT to reduce the total length, then get high trafficability, enable its efficient move in hairpin turns or narrow spaces.
Diesel engine
The power of the diesel can be ranging from 103kw to 390kw. The brands can be Cummins, MAN, MTU, and DUETZ.
Battery
The battery drive SPMT is the future, just like the new energy vehicle industry. Electric SPMT is acquiring more and more customers' favor.
Suspension system/hydraulic lifting system
The suspension system is a pendulum mechanical suspension arm mounted with a hydraulic cylinder. It consists of a pendulum arm, lifting cylinder, axle (normal axle, drive axle, and brake axle), and tire (solid or pneumatic industrial tyre). All suspensions could be divided into 3 or 4 groups to establish 3 or 4 points supporting the system according to different transport jobs.
High trafficability
The hydraulic oil cylinder in the pendulum axle is able to compensate for uneven road surface to make sure the cargo platform remains in a horizontal position and average payload distribution on each axle.
When the road surface is not smooth or the transporter needs to cross some obstacles, the transporter can lift itself to increase more room between the chassis and the ground, so it can pass those obstacles easily. We can call the SPMT has function of road compensation.
In the same way, when the SPMT passing through the road with limited height such as a bridge hole or a tunnel, the vehicle height can be reduced to the lowest, make sure it can pass through the bridge and tunnel smoothly.
Dual circuit of the lifting system
The backup safety hydraulic line, make sure cargo and SPMT stable if any leakage happened.
The hydraulic lifting system adopts a dual pipeline safety system,it is a backup hydraulic lifting line, which can ensure the safety and stability of the SPMT platform during transportation goods if the hydraulic pipeline is damaged for leaking.
Driving(moving) system
Hydrostatic pressure came from PPU to the hydraulic motor and cylinder to power the SPMT. Drive axle mounted with Rexroth reducer.
The driving system provides hydraulic pressure to the drive axle to make the vehicle move forward, backward, or up and down. The system is stable and accurate, which can reach the millimeter level to satisfy the requirements of various working conditions, especially in the manufacturing and welding of ship hulls.
When the SPMT module needs to move backward, the moving system will reverse the flow direction of hydraulic oil, then we can operate the transporter to reverse.
ASR system
The embedded electronic control system makes sure each wheel spin at the same speed and no-slip and skid when the SPMT accelerates.
Braking system
Different from modular trailers using air pressure as a power to brake, China SPMT adopting hydraulic pressure and cylinder to realize accurate braking.
Steering system
Considering of steering modes, SPMTs can be divided into two types:
1. Tie rod steering type (hydraulic and mechanical steering). Non-driving axles module is a type of hydraulic modular trailer, mechanical steering using tie rod for steering, max. steering angle reaches up to 50°.
2. Independent suspension type (electronically and hydraulic steering). Max steering angle is up to 130°, this type of SPMT can move sideways like a crab.
The hydraulic and electronic steering, adopting rack and pinion/worm and gear on each suspension, could make the SPMT move to any direction you need, even to move laterally. The system embedded with angle sensors to monitor its running, and guarantee precise steering.
Electric circuit system
Power whole SPMT's lighting system could be LED illumination to maintain long working hours.
Control system
With wire control panel and wireless control panel.
Tire
The self-propelled modular transporter adopts the tire instead of the traditional relocation methods of the flat rail car or the sliding. It means that the transporter can move to plants and yards without laying rails and sliding equipment.
The heavy-duty industrial tire could be pneumatic, solid tires, polyfill tire, and polyurethane tires, we just choose different tires according to different scenarios. Brands can be Continental or other top brands in China.
Conventional pneumatic tires
With conventional pneumatic tires, the maximum load capacity of SPMT per axle line can reach 48 tons. According to the different road conditions, as well as the different speed and working hours, we can also choose polyurethane filled(PU-filled) tires.
Compared with the poly-filled tire, traditional rubber pneumatic tire has lighter weight, lower cost, higher damping, and lower pressure to the ground.
Polyurethane filled tires
Due to the higher load-carrying capacity of polyurethane filled tire, the maximum capacity of polyurethane filled tire axle line can reach up to 60 tons. This type of SPMT transporter has very high requirements on the ground.
Poly-filled tires avoid the risk of flat-tire which exists in pneumatic tires, and the PU-filled tire is more rigid, which can increase the safety factor in the transportation process.
Polyurethane tires
If the SPMT is working in the factory plant and the ground condition is good, the pure polyurethane tire is a great choice. This PU tire is more wear-resistant and can effectively reduce the use cost.
Features of China SPMT
Quick loading and unloading cargo
As the SPMT has the lifting function, the lifting stroke is up to 600mm. We can put cargo on a supporting platform, the self-propelled modular transporter can move to the beneath of the platform bracket and lift itself up. Then the platform legs will be off the ground, the transporter can move to another position, so as to realize the loading/unloading of goods without the crane, gantry crane, or fork lift.
With the help of the lifting system and the bracket, we can make the loading and relocation process more efficient. Moreover, in most cases, it is very difficult to lift thousands of tons of the abnormal heavy cargo, the best way is via the SPMT, then we can kill two birds(lift and transport) with one stone.
Safety system
The steering monitoring system and other sensors ensure the safety of the steering process.
The self-adapting hydraulic system guarantees cargo platform level when SPMT running on uneven roads.
Flexible moving and easy maintenance
The moving, lifting and steering are flexible and reliable and highly accurate. Even when the SPMT is fully loaded, it can realize the mobile steering and lifting under low pressure. The whole vehicle adopts closed lubrication structure, and the main seals are imported from famous manufacturers, which makes the maintenance cycle longer and the cost lower.
World-class engines
The industrial engines adopt Cummins / DEUTZ / Man, which meet the EU emission standards to ensure the stable operation of the power module.
Accurate movement and steering
Accurate movement and steering make sure it has high performance in modules connection and assembly.
Combination system
The combination system enables modules could be connected laterally and longitudinally to adapt to different cargo sizes and weights. Also, modules can be coupled with hydraulic hose and electrical cable to transport oversize cargo with relatively lightweight, just need less quantity of SPMTs to work in "soft-connection" mode.
There are usually two types of combinations.
Physical coupling
The first type is the longitudinal and latitudinal physical coupling (increasing the length and width) between the modules through the connecting bolts, hydraulic pin. For the side by side combination by connecting blocks, so as to increase the overall width of the SPMT.
Soft coupling
For some large goods with oversize dimensions and relatively lightweight, the soft coupling method (only connecting the hydraulic oil hose and pipe and electric circuit) can expand the loading area. With this method, we could use fewer modules. In other words, we can reduce the cost of purchasing or renting self-propelled modular transporters.

AGV mode
When preset a working program (moving and steering mode) and route, the SPMT can work automatically like an Auto Guided Vehicle.
The new generation of electric SPMT
Development of self-propelled modular transporter benefited from the innovation of lithium battery, is apt to electric SPMT compare to the conventional diesel engine SPMT.
Most developed and developing countries have high requirements for emission standards and noise control regulations, which will increase the cost to make qualified PPU with diesel engines. Electric SPMT has no emission and pretty low noise. It is more friendly to use in the plant, even the dust-free workshop.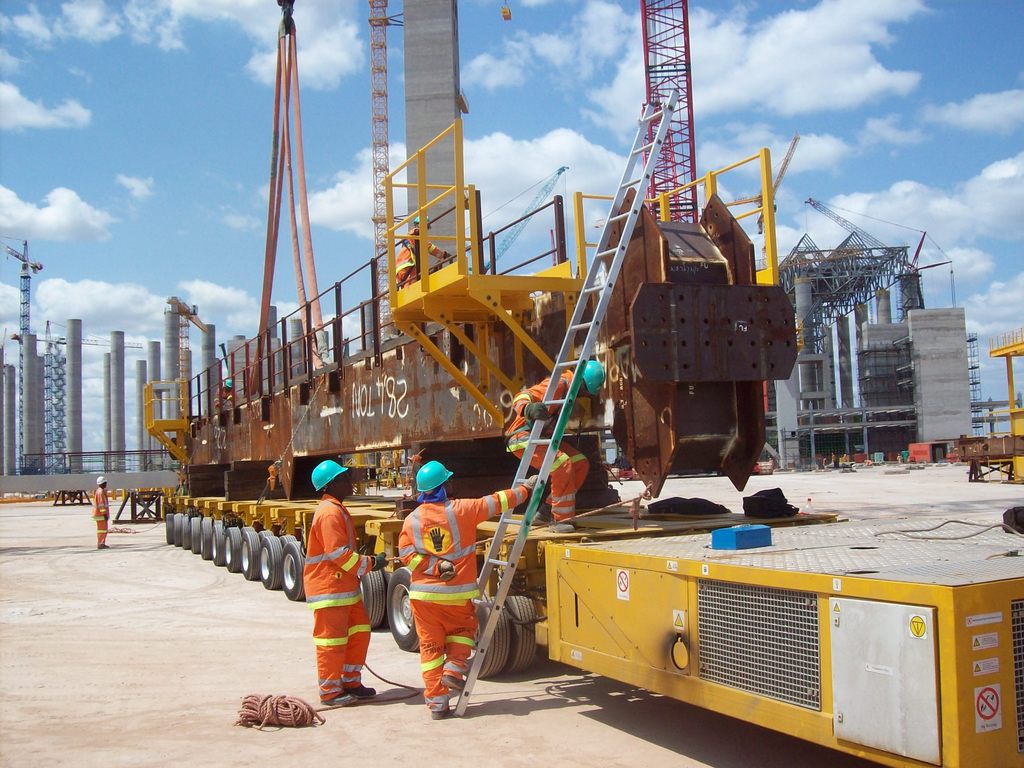 What SinoTrailers Offers:
SPMT parts, able to replace parts of original SPMT made in Europe.
Upgrade hydraulic trailers to SPMT.
Service of door-to-door refurbish of SPMT.
Door-to-door service of replacing malfunctioned parts.
Trouble-shooting service.
SPMT operator training and out-sourcing service.
Want to move hundreds of tons' cargo for long-distance road transport? You probably need a modular hydraulic axle trailer.
SinoTrailers – A Factory of China SPMT, self-propelled modular transporter