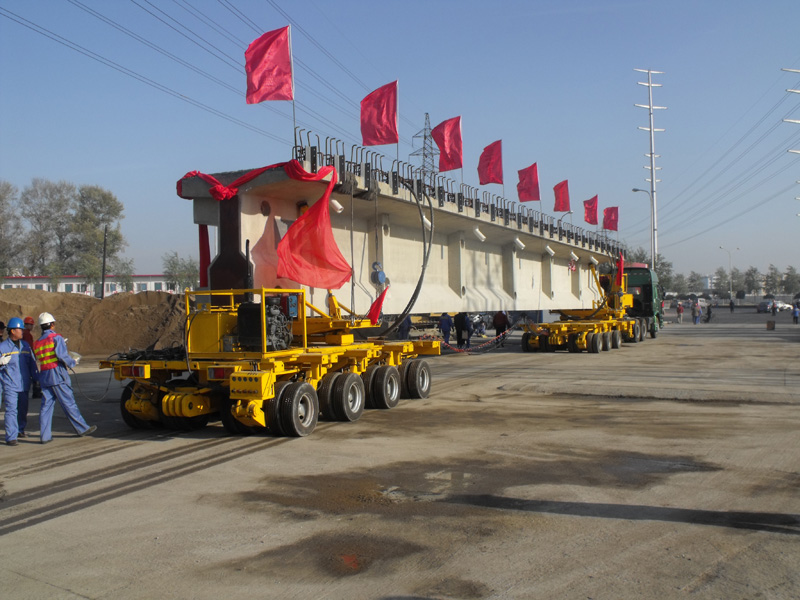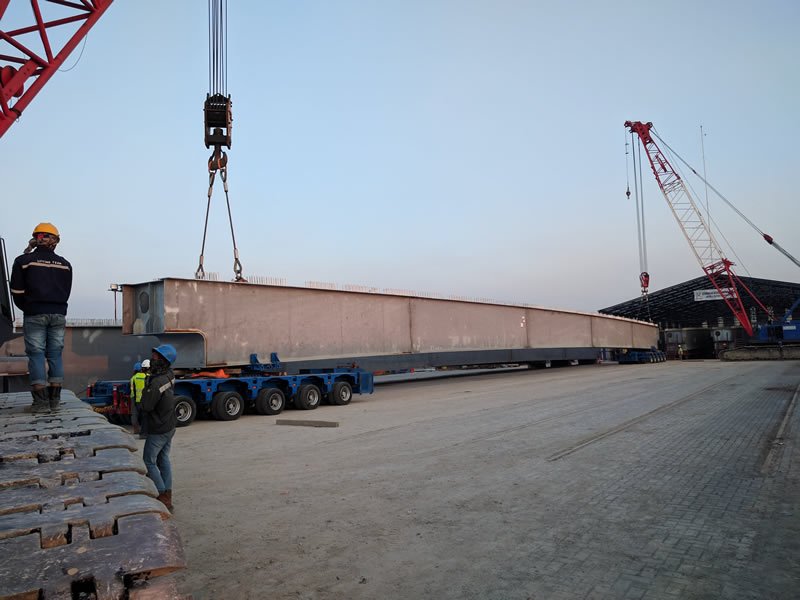 What is long beam trailer
Long beam trailer is a kind of trailer set to transport long cargos by loading two ends of them, which is the most effective and economical way to transport long cargo like steel structure, long steel pipe, precast concrete beam and long bridge beam section.
The trailer set has two trailer modules, the front module could be towed by a prime mover or self-propelled. Rear modular is like a steering dolly, could be equipped with a small diesel engine to realize manually steering.
Long beam trailer is supporting launching girder to construct bridges, it fulfills the transport job between precast concrete bridge beam section yard to bridge construction site.
The vessel or beam should be strong enough to connect two modules of trailer or SPMT.
How to choose suitable equipment to transport long beam/vessel
Long beam trailer – which has no power source for moving, but has a small engine to power steering, mechanical suspension, the most economical way for transporting long beams
Modular trailer – which has hydraulic suspension to protect beam and vessel in a better way
SPMT – If beam or vessel is too heavy, and space is too narrow for steering, SPMT is the best way to transport them by virtue of its minimum turning radius. And both modules can be synchronized for moving and steering, hardly any torsion on the beam and vessel. If the transport job is a routine x 24, AGV(automatic guided vehicle) SPMT is available
Self-propelled long vessel trailer – an upgraded type of long beam trailer, mechanical transmission for moving, please see below chapter for detailed info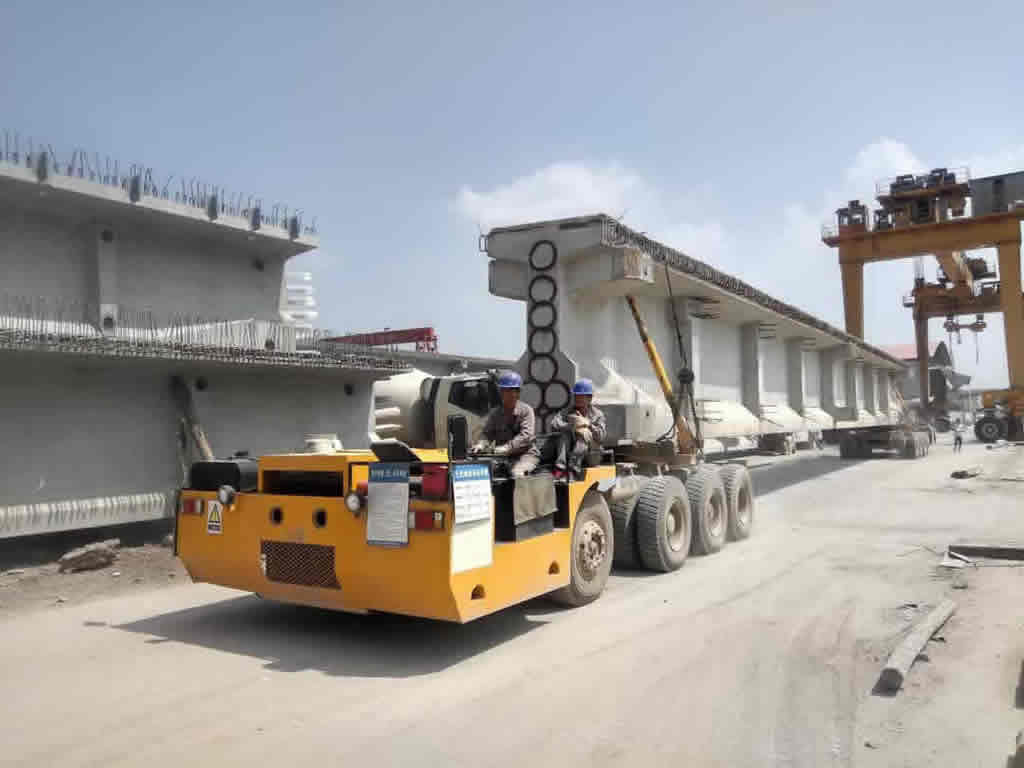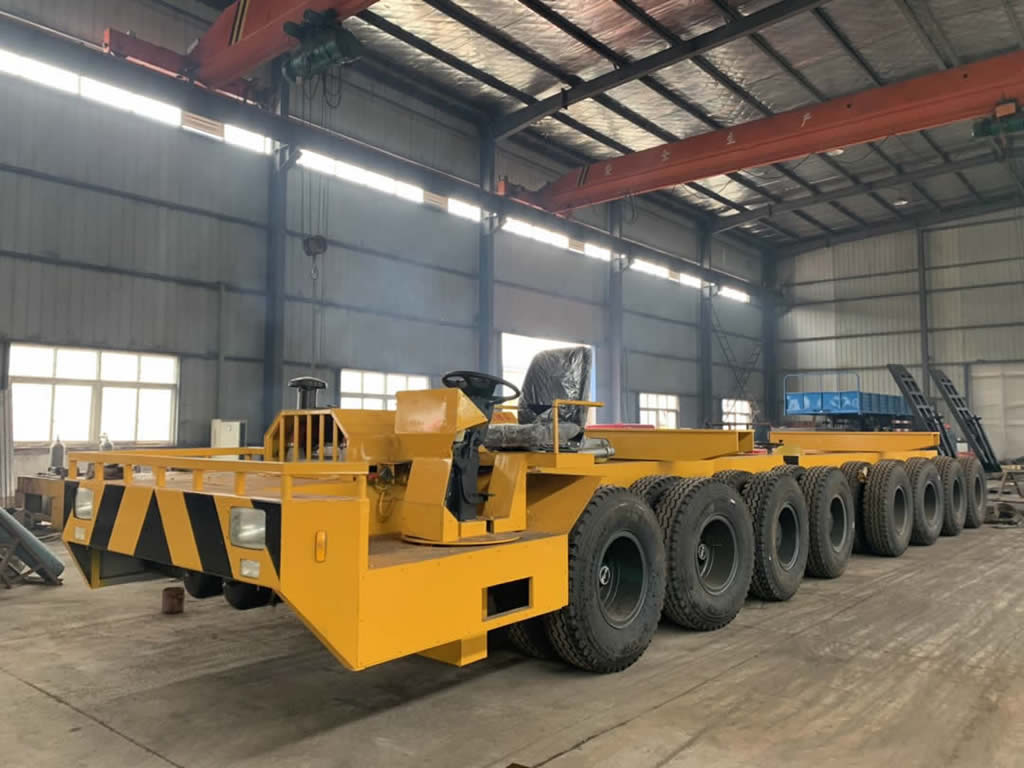 Self-propelled long beam trailer
It has functions of beam transport and feeding. Front trailer and rear trailer all equipped with power sources can move forward and backward freely, speeding up the transport of bridge beam and returning back to sections yard. Consists of self-propelled unit and non-drive unit.
4 or 6 cylinders diesel engine
4 level reducer to drive the trailer. Mechanical gear drive system
Hydraulic steering
Air brake system
Multi gears for moving forward and backward
Non-drive unit equipped with a small engine to supply power for steering
Specialized in transport of 16m, 20m, 24m and 32m T section beam for high-speed railway. Custom design of long beam trailer is available.
SPMT for long beam
Using two modules of SPMT for long beam transportation: this way can make sure two units of SPMT can move and steer simultaneously which is the best way to protect the long beam from torsion.
With help to hydraulic lifting cylinders in the SPMT, the long beam could be elevated or lowered to pass through obstacles easily. And independent suspensions minimize turning radius accordingly.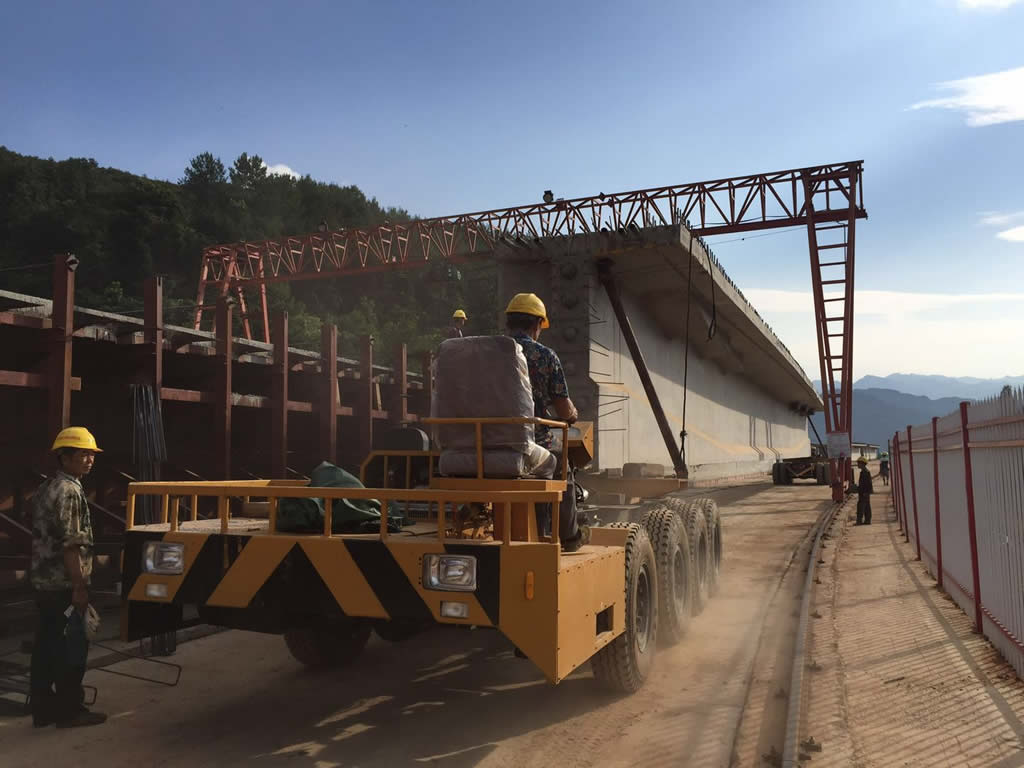 Turntables and bolsters
Using turntables and bolsters could minimize turning radius of the long beam, also can protect the beam from distortion during steering and distribute weight on the long vessel trailer.
Advantages of self-propelled long vessel trailer
Less equipment and labor needed
High efficiency
Can move forward and backward, no need turning back
Less maintenance cost
Less working procedures to maintain a safer condition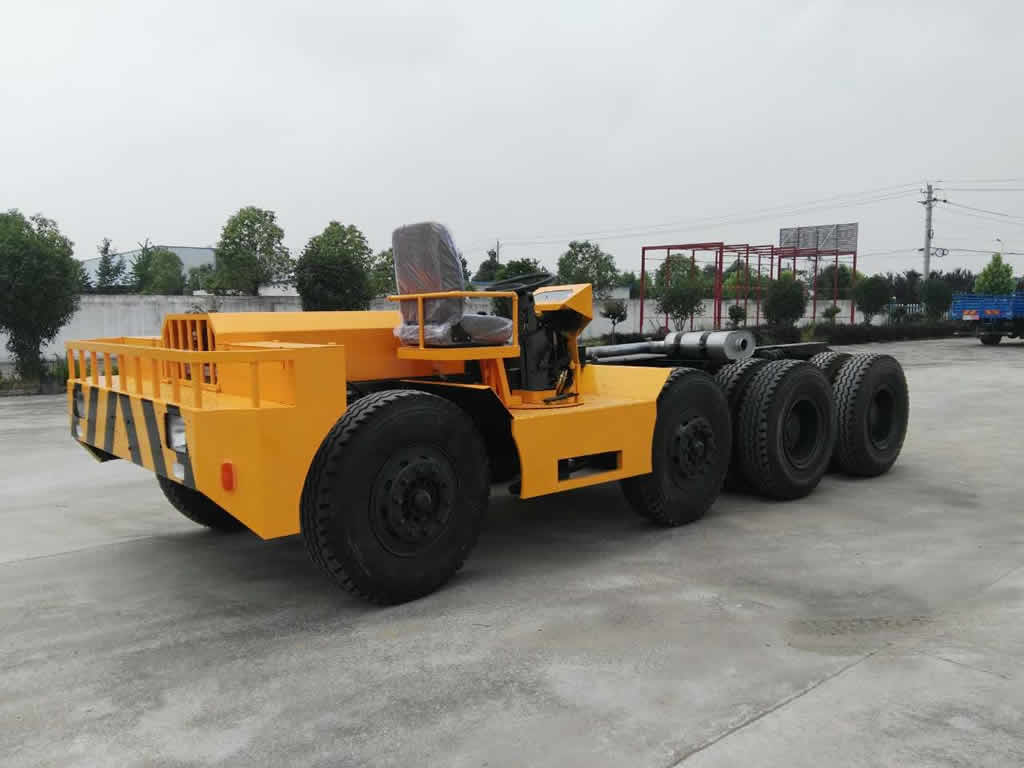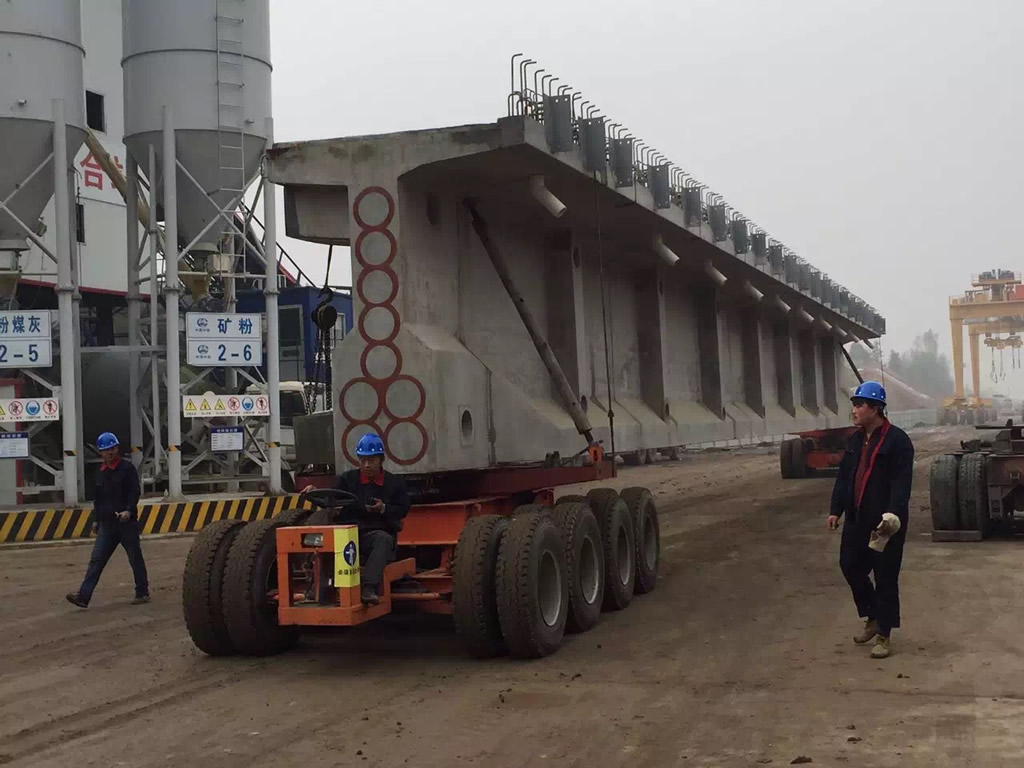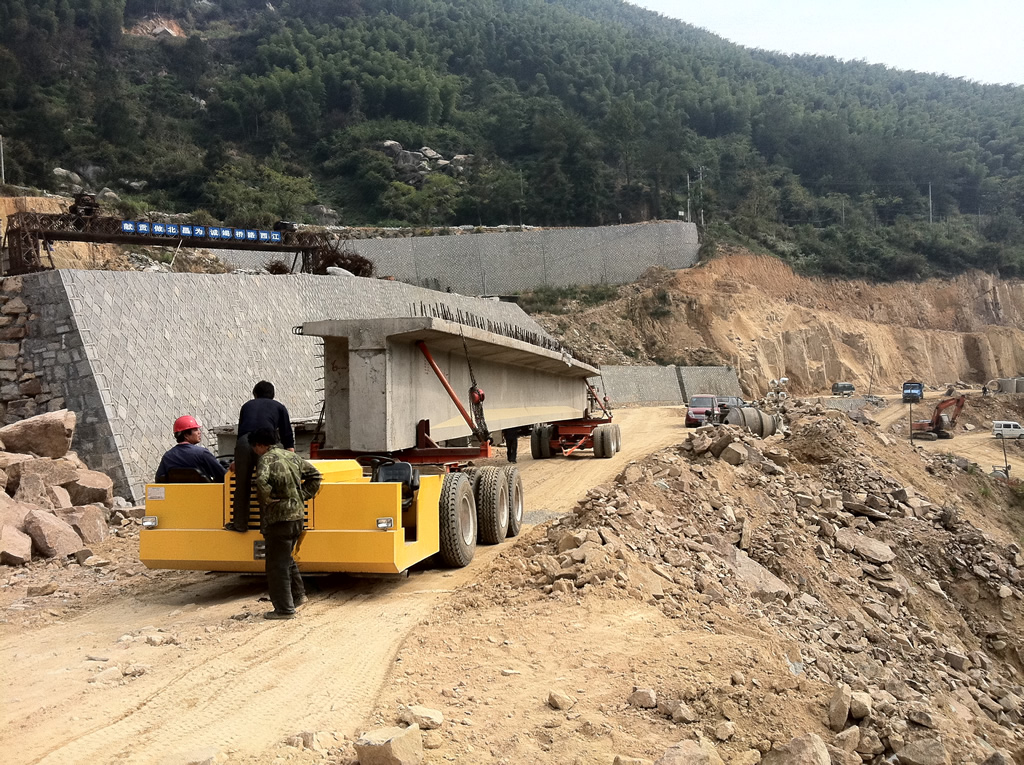 Loading procedures of long vessel trailer
Clear obstacles on path and overhead
Make sure pressure is allowed on the way when the trailer is loaded
Flatness of path is needed
Drive the trailer to the position under RTG
COG of long bridge beam should on top of center line of the trailer
Align all support points
Using supporting rods and chain block to fix the bridge beam on the trailer
Cushion wood or rubber are needed between beam and trailer
Slow gear to start engine, slow speed with beam load, high speed with an empty load
A safety observer should monitor the whole process of transport, should notice drive to stop the trailer if abnormity detected
Before moving the trailer with the beam, braking air pressure must be above 6Mpa
Braking test before entering the launching girder
During the process of feeding beam, drive the trailer from the tail side of launching girder slowly
Trailer's speed is same as that of overhead crane of launching girder
After launching girder lifted the beam section completely, the long beam trailer can backward to section yard
How to fix long beam on trailer
Using round woods to support both sides of the beam
Using 4 units of high tensile steel pipe to support both sides of the beam, make sure no overturn happens
Using 4 sets of steel ropes and chain blocks to tie up the beam on both ends, to strengthen the fixture
Please check below sketch drawing
Path requirements for beam transport
Width of road higher than 5 meters
Longitudinal slope less than 3.5%
Latitudinal slope 4% to drain water
Road bearing capacity higher than 0.5Mpa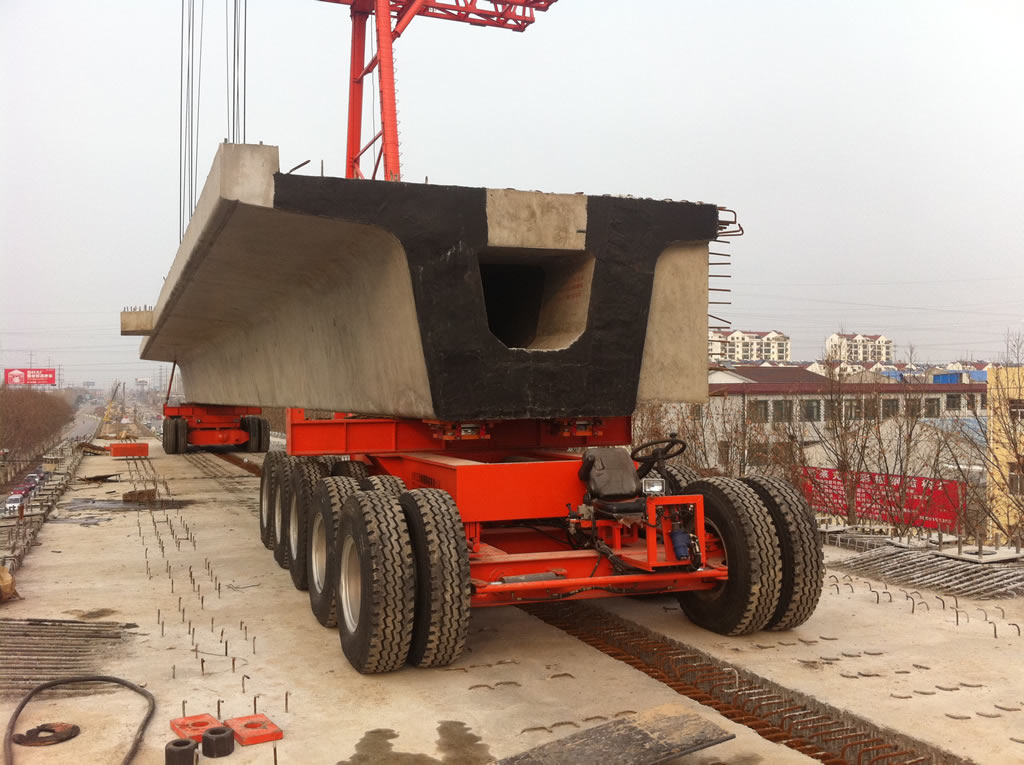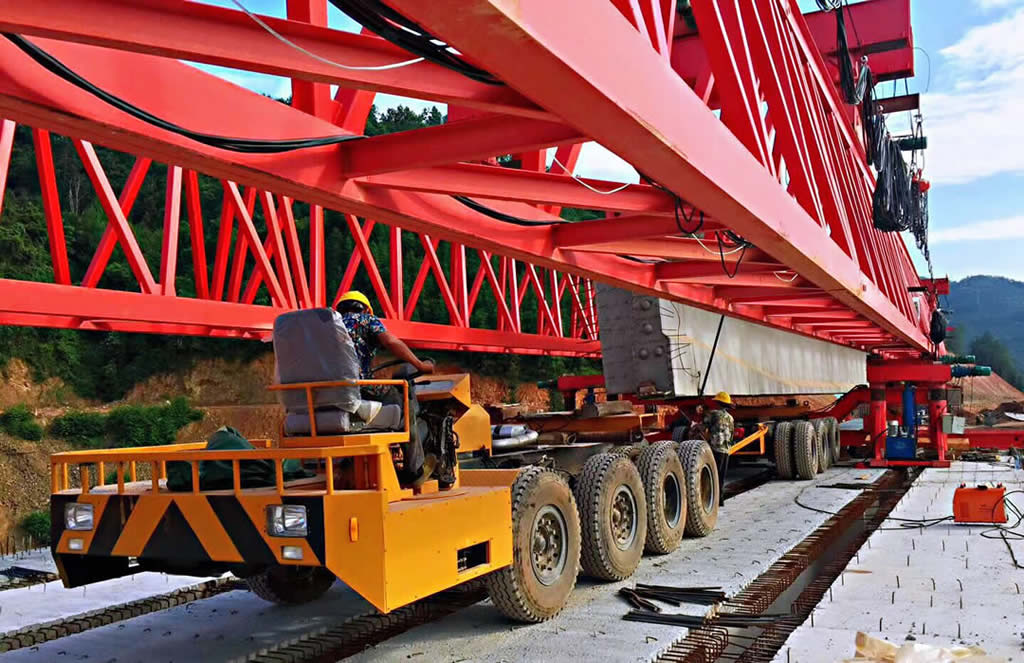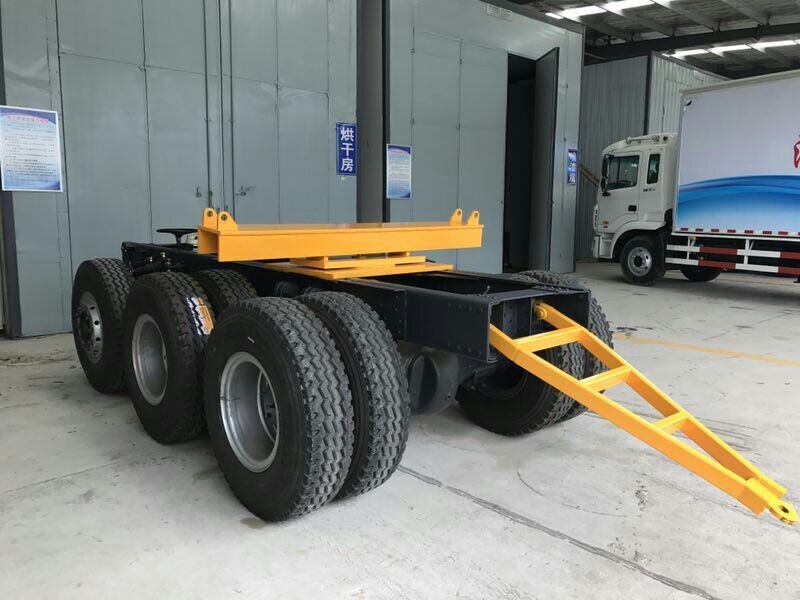 Click steering dolly to know more info about it
Using two modules of modular trailer or steering dolly: this is the most cost-effective way to transport the long girder or long beam, but the beam should be strong enough to tow the rear trailer, and it also needs to bear turning force between two modules because they cannot move and turn simultaneously.
Application scenarios of long beam trailers: most used in elevated road construction, railroad and road bridge construction, long pipeline, vessel and steel structure transportation. For railroad maintenance, you may need a railroad crane.
If the weight of the long bridge beam section concrete beam is over 500 metric tons, you need girder transporter or SPMT to move it.